An imbalance in hormones can cause irregular periods, infertility, and excessive hair growth in women suffering from Polycystic Ovary Syndrome. 

PCOS cannot be cured but can be managed through treatments. Physical exercise is an effective treatment. The benefits of exercise include improved insulin sensitivity, regular periods, and reduced chances of infertility.

Benefits of Exercise for PCOS
Physical exercise has been shown to have numerous benefits for people with polycystic ovary syndrome (PCOS), such as reducing the risk of obesity, improving insulin sensitivity, and reducing the risk of type 2 diabetes. 
However, many people with PCOS are reluctant to engage in physical activity because they feel it will worsen their symptoms. Some people with PCOS may find that moderate physical activity is most effective for them, while others may require more vigorous exercise to improve. 
The benefits of regular exercise include weight loss, improved mood, and better sleep. Many types of exercise can be helpful for PCOS, so finding one that is right for you is essential.
Polycystic Ovarian Syndrome (PCOS) is among the leading causes of female infertility,
affecting 6% to 12%
(up to 5 million) US women. It is a health issue caused by an imbalance of reproductive hormones. A hormonal imbalance can cause irregular periods.
What is PCOS?

PCOS is a hormonal disorder typically occurs in women during their
childbearing
years (15 to 44). The condition affects a woman's ovaries, the reproductive organs that produce estrogen and progesterone, the hormones that regulate the menstrual cycle. 
The ovaries also produce some male hormones called androgens. It is evident by irregular ovulation, irregular egg development, irregular or missed periods, infertility, excess hair on the face and chin, acne, weight gain, and thinning of hair.
PCOS is a "syndrome" or a collection of symptoms. Among them are:
Cysts in the ovaries

High levels of male hormones

Irregular or skipped periods

Who is most likely to suffer from PCOS?

It is prevalent among women in their 20s and 30s having difficulties getting pregnant. However, it can occur in women of any race or ethnicity after puberty.

Treatment and Care

Taking care of PCOS will often include some lifestyle changes, such as diet and exercise. A healthy diet can help reduce the severity of the symptoms by improving insulin resistance and reducing excessive levels of male hormones. Daily activity, low sugar intake, and a low-inflammatory diet may also lead to weight loss.

Let's look into the more natural and holistic approach.

Eating a balanced meal 


Have enough sleep


Consider low-impact and strength exercises


Limit alcohol consumption


Stress management 


Maintain a healthy gut

Importance of exercise for people with PCOS

It is no coincidence that PCOS is characterized by insulin resistance, the inability of your muscles, fat, and liver to efficiently take up glucose (sugar) from your blood. Studies have found that exercise improves glucose metabolism, or how the body processes the sugar in the blood. Prediabetes and diabetes are linked to insulin resistance.

Doing Polycystic Ovary Syndrome Physical Exercise 3-5 times a week can help combat testosterone-related symptoms such as acne, hair loss, and unusual facial hair growth. Many women with PCOS also struggle to lose weight, putting them at risk for various health issues, including high cholesterol, high blood pressure, sleep apnea, stroke, and heart disease. 

With a combination of a nutritious diet and movement, PCOS symptoms can be addressed to such an extent that you may even be able to reduce or even come off your medication.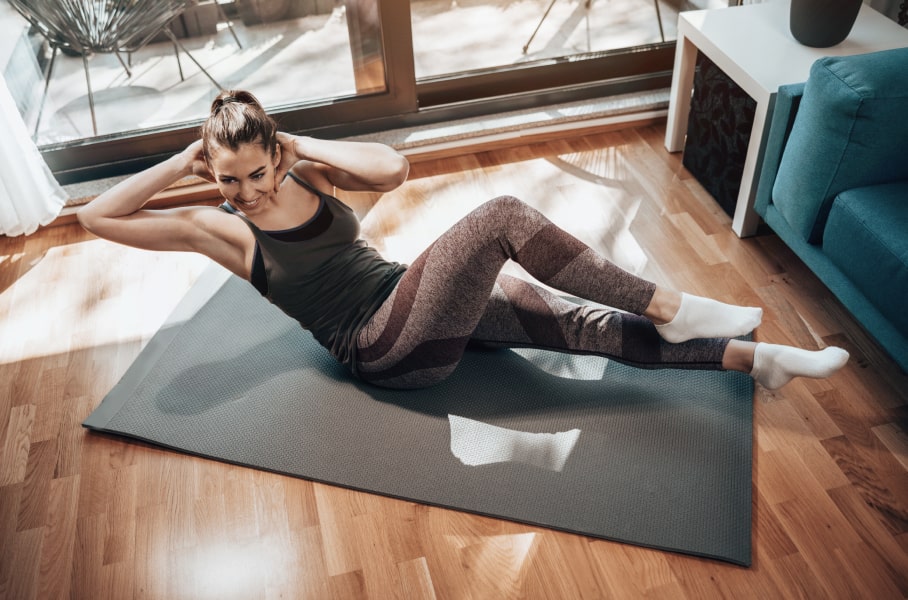 What's the best polycystic ovary syndrome physical exercise?

Insulin resistance
has been linked to a lack of physical activity and excess body weight. The following are some exercises you may want to consider:
STRENGTH TRAINING

Strength training involves using resistance bands, weights, or your body weight to build muscle. It is beneficial for building healthy bones and muscles.

Gaining muscle mass may help you burn calories faster at rest, allowing you to maintain a healthy weight. It reduces insulin resistance, increases metabolism, and improves body composition (less fat and more muscle).

HIGH-INTENSITY INTERVAL TRAINING (HIIT) WORKOUTS

It improves cardiovascular fitness and helps decrease waist circumference. It is a workout regimen that comprises intense exercise bursts and rest intervals. It has been shown that a 5- 10% weight loss can reduce PCOS symptoms by reducing excess testosterone and
improving insulin resistance
.
The actual activity being performed varies but can include sprinting, biking, jumping rope, or other bodyweight exercises (SQUATS AND LUNGES). A HIIT workout typically lasts for 10-30 minutes.
CARDIO WORKOUTS

Insulin resistance has been shown to reduce, fertility is boosted, and mood stabilizes.

Moderate exercise, such as brisk walking, jogging, cycling, and swimming, can help PCOS sufferers. Movement of this type increases insulin sensitivity, reducing the risk of heart disease and type 2 diabetes. 

In addition to weight management and improving ovulation, 30 minutes or more of exercise a day can also reduce depression and anxiety symptoms. Regular light exercise can contribute to your reproductive success if you're about to begin IVF.

STATIONARY CARDIO WORKOUTS

When you engage in moderate exercise, your heart rate increases to about 50 to 70 percent of your maximum heart rate, this category includes exercises such as walking, bicycling, dancing, and aerobics classes.

CORE STRENGTH EXERCISES

If you are overweight, you may experience lower back pain and poor posture, so core training should be a part of your exercise regimen. During exercise, it's important to learn how to activate these muscles to prevent injury to the spine.

MIND-BODY EXERCISES

Stress
and distress are enhanced in women with PCOS, according to studies. By engaging in mind-body exercises like yoga, Pilates, and tai chi, you will burn calories and reduce your stress levels, easing the symptoms of PCOS.
The best physical exercises for Polycystic Ovary Syndrome are a wide variety of aerobic and strength-building activities that can help reduce symptoms like fatigue, bloating, mood swings, and anxiety. Many people with PCOS also find that strength training is helpful. Moderate aerobic activity, such as walking or swimming, can help minimize the symptoms and improve overall well-being.
An effective functional medicine tool is the ability to diagnose and personalize interventions based on understanding the patient's health history. If you think you may have PCOS, please
consult with a functional medicine practitioner
for treatment recommendations.
The bottom-line benefits

While it is important to consult a doctor before starting any new exercise routine, many physical activities can benefit women with PCOS. The benefits of exercise include regulating insulin and sugar levels, reducing stress, and improving mood. Don't wait until tomorrow to start feeling better! Get moving today!